Green energy and sustainable water management and tourism on Dutch Ambassadors agenda during visit to Aqaba
News item | 13-07-2023 | 11:16
The Ambassador of the Kingdom of the Netherlands to Jordan, Mr. Harry Verweij concluded a two-day visit to Aqaba to meet with local representatives, stakeholders and companies. The visit focused on the latest developments in green hydrogen, logistics and tourism, and on exploring opportunities to enhance cooperation between the Netherlands and Jordan in these areas.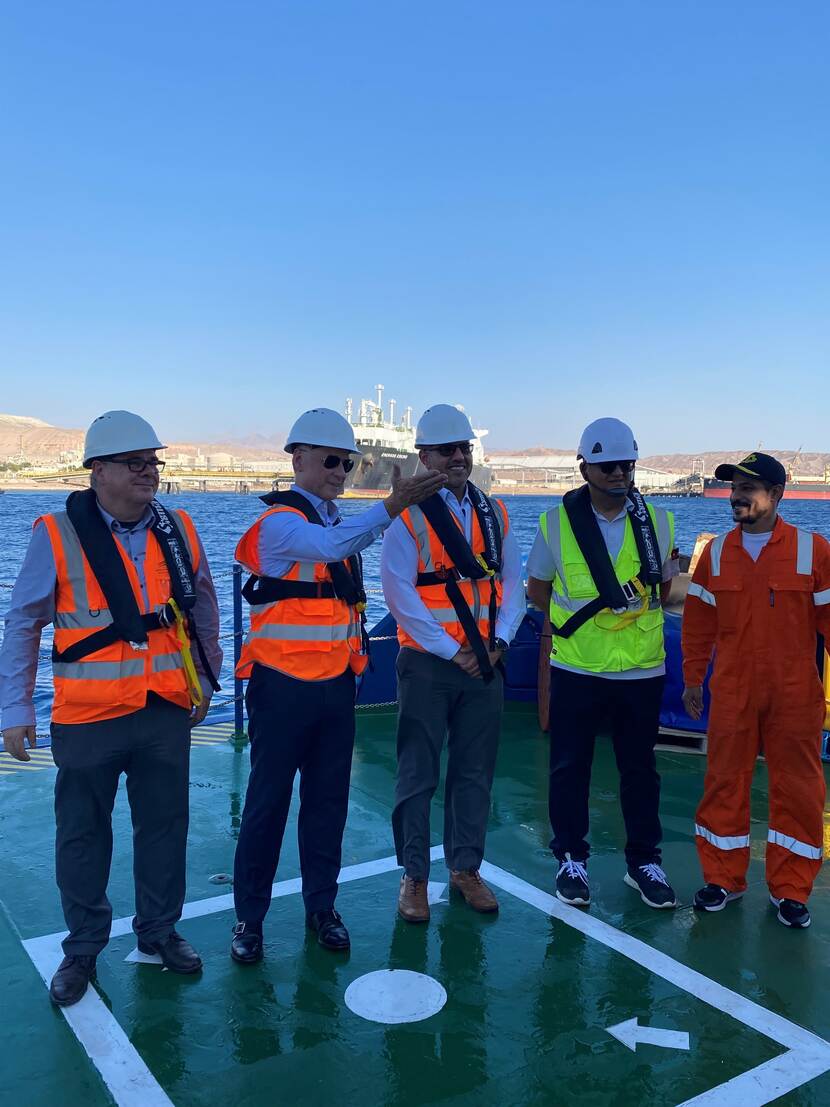 On the first day, Ambassador Verweij met with the newly appointed Chief Commissioner of the Aqaba Special Economic Zone Authority (ASEZA), H.E. Mr. Nayef Al Fayez. During their meeting, Ambassador Verweij congratulated Fayez on his new appointment and discussed future opportunities for collaboration on green growth and sustainable tourism.
In addition, Verweij met with H.E. Hussein Safadi, CEO of the Aqaba Development Corporation (ADC). The meeting touched upon Dutch support to green hydrogen developments in Aqaba and the Netherlands' commitment to supporting young budding entrepreneurs from Aqaba.
The Netherlands has initiated and is supporting several projects in Aqaba in the following fields: water, tourism, green energy and entrepreneurship. Currently, the Dutch Centre for the Promotion of Imports from Developing Countries (CBI) is focused on expanding the capacity of the Tourism Directorate to implement sustainable destination management practices, in line with ASEZA's Green Growth strategy. Moreover, the Netherlands has pledged €30 million to the Aqaba-Amman Water Desalination and Conveyance Project, in efforts to provide sustainable solutions to Jordan's water challenges.
Later this month, the Netherlands in partnership with ADC will be holding a Green Hydrogen Masterclass on "Strategies and Policies", funded by the Netherlands Enterprise Agency (RVO) and implemented by De Oude Bibliotheek - Academy (DOB- Academy). This initiative is part of the Netherland's support to enhance capacity for local stakeholders in implementing green hydrogen strategies. RVO has also provided Delft Offshore Technologies (DOT) with a grant to implement a new and innovative windmill in Aqaba, which will produce desalinated water and electricity upon demand. This project is also implemented in collaboration with ADC.
Ambassador Verweij also paid the longest operating Dutch company in Aqaba, Smit Lamnalco a visit. Smit Lamnalco started working in Aqaba in 2007, since then they have become the Aqaba Port Marine Services Company (APMSCO), which is responsible for all towage, pilotage, and related services at the Aqaba Ports.
Furthermore, to highlight cooperation in entrepreneurship and private sector development, and to further understand the challenges that youth in Aqaba face, the Ambassador visited the University of Jordan in Aqaba. Through local partner iPark, the Netherlands is implementing the Orange Corners program in Jordan. This is a Dutch-funded initiative that aims to provide various opportunities for young entrepreneurs, supporting them in developing their businesses and creating employment opportunities.
Ambassador Verweij's two-day trip emphasized the significant progress that the Netherlands development corporation in Jordan has been making especially in addressing the needs of refugees and youth. Furthermore, the visit underlined the Netherland's continued efforts in supporting Jordan to work towards a greener and more sustainable future.