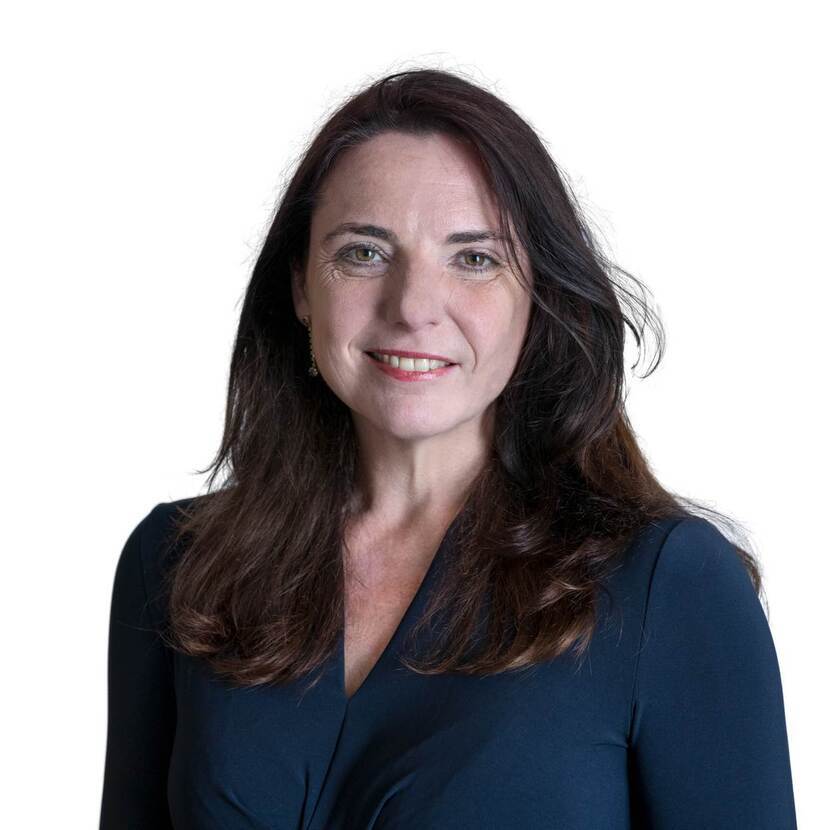 Annemieke Verrijp
Dutch ambassador in Buenos Aires
Annemieke Verrijp has been ambassador of the Kingdom of the Netherlands to Argentina, Uruguay and Paraguay since 2022.
See the curriculum vitae of ambassador Verrijp on
rijksoverheid.nl
(in Dutch).
From her very first visit to Buenos Aires, Annemieke Verrijp was struck by the city's elegance. In her work as ambassador, Verrijp tries to focus mainly on opportunities. 'What are the dynamics of a given society? To me, finding and using that energy is one of the most appealing aspects of an ambassador's job.'
What struck you the most during your first visit to Argentina?
'That was back in 2009. I was in Argentina for a conference on women, peace and security. I was impressed by the wide avenues and magnificent old buildings in Buenos Aires. The beauty of city really affected me.

When I arrived in 2022 as the new ambassador, I was struck by the contrast with the Dominican Republic, my previous posting as ambassador. In Santo Domingo the streets are dominated by the newest SUVs, and there are luxury malls. Here you still see cars from the 1980s that have been patched up over and over again.

I should note that I've come to appreciate that "patch-it-up" mindset more and more. In general, I notice that there's less of a throwaway culture here. We could learn a thing or two from the Argentinians' repair-and-reuse culture. At some point these two impressions blended together: I now see the beauty behind the faded glory of certain buildings.

Finally, I was struck by how big everything is in this country. The distances are huge, and so are the portions. Here you can buy ice cream and mozzarella by the kilo, and pizzas are several centimetres thick.'
What lessons did you learn from your first ambassadorship in the Dominican Republic that you're taking with you to Argentina?
'My time in Santo Domingo was a great introduction to the job of being an ambassador. It's a small embassy, and you get a taste of all aspects of our work, from human rights to economic relations and consular services. The main thing I learned is that achieving results depends a lot on how the embassy functions as a team. Trying to maintain our social cohesion during the pandemic and with remote working turned out to be a valuable challenge. I think this is something everyone can relate to, together with the current challenge of finding a new balance in this 'post-pandemic era'.
This is why I'm now working with the embassy team in Buenos Aires to come up with a joint vision. Part of this involves going out with every section of the embassy to one of the city's traditional cafés for a coffee and media luna (croissant) and calmly reflecting on everything away from the office.'
You'd only been ambassador for a few months when Argentina won the World Cup. What was that like?
'It was amazing to see for myself how sport can bring people together. People from all walks of life were united by their love for football. That's something special, because there's a significant gap between rich and poor, and it's getting bigger all the time. It was nice to see everything stop for a time during the World Cup.'
In which main areas are the Netherlands and Argentina working together?
'Agriculture and the economy – stimulating bilateral trade – is one of the main issue that the Dutch embassy focuses on. The circular economy and innovation are other topics we're going to be devoting more attention to going forward.
Sustainable energy has a lot of potential here, but it's underdeveloped. This is an area where I see opportunities, and not just in Argentina, by the way. I'm also ambassador to Uruguay and Paraguay. Uruguay is a small economy, but it's developing by leaps and bounds in the field of green hydrogen. We're seeking to encourage the exchange of knowledge and partnerships in this area. One of the tasks of an embassy is to bring together knowledge and actors, by which I mean businesspeople, companies, knowledge institutions and government bodies, from the two countries in question.
One of the challenges facing Paraguay is deforestation. The Netherlands is seeking to promote sustainable agriculture and re-planting. Much of this deforestation is caused by farmers clearing land to plant crops like soybeans. To prevent deforestation, you need to consider alternatives, because farmers need a source of income.
We also cooperate with Argentina, Uruguay and Paraguay in the field of human rights, specifically on the themes of gender equality and LGBTI rights. To give a concrete example, Argentina recently appointed a special ambassador for feminist foreign policy. The Netherlands is currently developing such a policy as well and we will therefore work together to learn from each other.'
What do you regard as your most important task as ambassador?
'As ambassador I try to identify a society's dynamics and energy. And I aim to use them for our common benefit. Particularly in Argentina, where the economic crisis left deep marks in society. We recently had a breakfast with local authorities and members of the business community from the port of Rosario. Mayor Ahmed Aboutaleb of Rotterdam was also there. He said: "Don't fixate on difficult circumstances. Make use of your shared influential position, identify and seize opportunities and don't wait until the economic situation changes." I saw that his message had the desired effect on his audience: they were enthusiastic about what he had to say.
I think this is also what our role as the Netherlands should be. In Argentina the Dutch are known for our entrepreneurial spirit and innovative thinking. Previously, embassies were mainly concerned with promoting Dutch trade interests. Obviously we still do this, for example by assisting Dutch businesses here. These days, though, we try to work together to address shared challenges, such as climate change, sustainability and energy.'
Can you offer a few examples?
'I'm always inspired by initiatives led by small-scale, young and/or female entrepreneurs. We shouldn't underestimate their impact. A startup from Córdoba recently won a prize at the World Economic Forum in Davos for an initiative that applied data intelligence to sustainable water use. I immediately asked our Argentinian agricultural staff member to get in touch with the company.
Another example is a partnership between Wageningen University and CREA – a platform comprising two to three thousand small agricultural producers – to develop production chains together, enabling these businesses to produce more, in a better and more sustainable way.
I'd also like to mention "Working Holiday", a programme that gives young people from Argentina and Uruguay the opportunity to spend a year in the Netherlands gaining work experience and getting to know our culture in all its diversity. And it works the other way too: young people from the Netherlands can do the same in Argentina and Uruguay. It's a wonderful project, which not enough people know about.'
What would you like to achieve as ambassador?
'It strikes me that we talk a lot about untapped potential. But in fact, promising small-scale local or regional initiatives are being developed all the time – in the wine industry, in water management, or port management. I hope we can highlight those activities and promote that potential.
In addition, in 2023 our economic, agricultural and human rights sections will be exploring opportunities in Uruguay. It's a small country, but it has a stable economy and democracy. A like-minded country with many opportunities, for example when it comes to green hydrogen. I hope my team can not only bring together the right players to find solutions to shared problems and inspire people, but also get satisfaction from their work.'